Post by Selenity on Nov 11, 2018 11:54:25 GMT
Selenity Rose Celeste Maeve Belmont
" I will live my life so that I can say that I defined my life. My life did not define me. "




Nickname: Sele, Rose

Age: A maiden not quite young but not yet a 'full woman'.

Gender: Female

Race: Mystic Human

World From: Lovenia

Role: Still finding her way.

Family:
Father - Living
Mother - Living
Siblings - 6 Older Brothers & 1 Younger Brother
Relatives - Several Cousins
Children - None

Relationship: Single

Character Traits
Hair Color/Style: Selenity generally keeps her hair hidden underneath her hood, with it pinned back a bit. Sometimes, her hair is free falling beneath the hood and half tucked underneath the tunic of her shirt as well. Though on the rare occasion that her hair is freed from it's confinements under her hood it flows down her back in tousled curls, ending at hip length.

Eye color: Cobalt blue eyes, deep and soulful.

Skin Color: Pale porcelain skin.

Body Type: Slender curvy.

Clothing - Detailed Appearance: Selenity tends to wear light clothing. Cotton cloth dyed white for pants, tunic, and sleeves with a dark blue hood and a set of gloves and boots. If she knows she's going to be in dangerous territory then leather armour is donned.

Personality: Sele tends to be quiet yet welcoming. An easy smile on her face readily available for all that may need one. Often seen at work on one thing or another, or visiting the crusader's church. A complaint rarely falls from her lip and she seems anxious to learn and try new things.

Likes: Unicorns, horses, flowers, and learning something new.

Dislikes: Goblins, trolls, and causing harm to others through failure.


Faith, Common Items, & Combat
Faith
: Fo- Novice Priestess Level (Faith 36)
Known Spells
: Sixth Sense - Morning Fog - Bless - Dispel - Refresh - Locate Soul - Humid Drizzle - Nolocate - Charm Animal - Courier - Cure Light - Lurker in the Woods - Cure Medium - Fo's Touch - Light of Fo - Cure Serious - Willowspine - Bearpaws - Oakshell
--------------------------------------------------------
Inventory Bag
: Selenity commonly keeps a set of basic tools as well as healing items. Any items of obvious note will be listed below.
Hooded half cloak that falls around her shoulders. She keeps her hair securely hidden beneath it.
List item 2
List item 3
Combat
: Rarely enters into combat. Her reflexes seem quick especially under duress.
Update: Ever since the arrival of her elder brother 'Sweeper' into these lands she has been entering into combat more often, willingly putting herself into harms way. Granted, he tends to taunt any creature she successfully taunts back off of her and onto him. Sibling rivalry at its best.
Biography
History
:
Selenity is from a world called Lovenia and had been a member of the kingdom of Starfell. She has a gentleness about her and a calm confidence in everything she says or does. Duty is very important to her and to her family. She is the only daughter with several brothers mostly older and one younger than herself. She was very cloistered in a way from the outside world, when not accompanying her Mother outside their home, she remained at home, honing her skills and pursuing scholarly pursuits and learning etiquette.
Selenity was preparing for an arranged marriage, and the customary living with her future in-laws for a year and a day before that fated day when the war broke out. The wedding was delayed, and her Father sent her for safe keeping to where many of the Maidens of the noble and royal houses were sending their daughters and younger sons. To the Water Castle.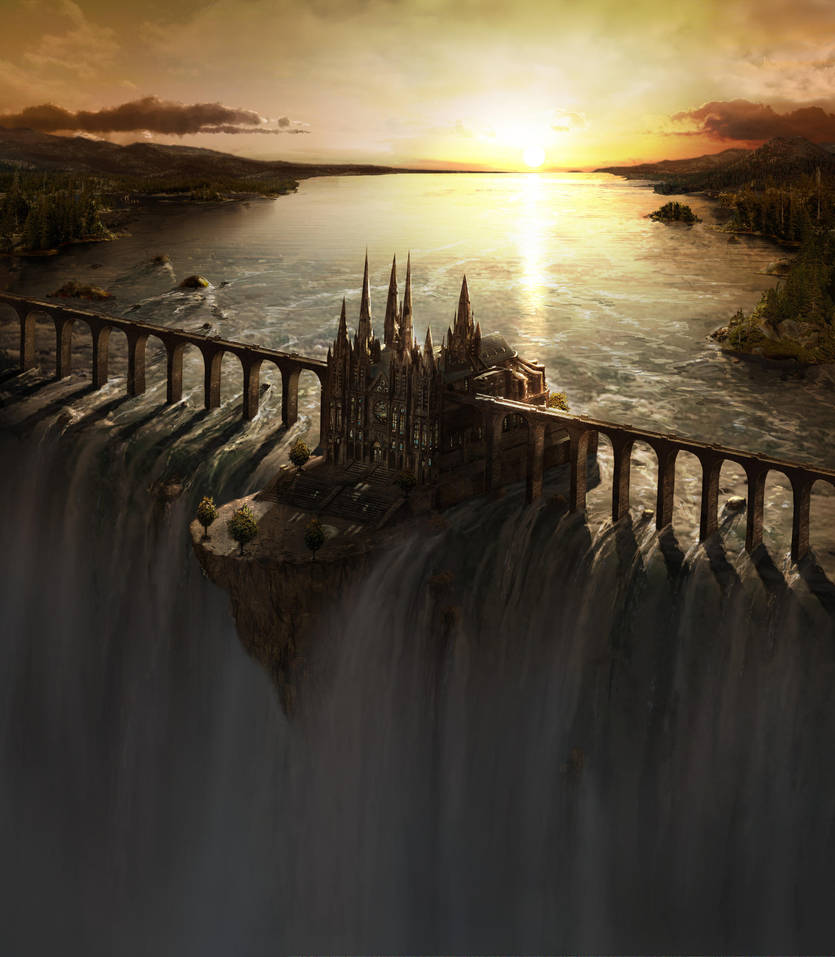 Time passed, the War dragged on and the World was suffering for it. A chilling darkness was beginning to envelop the world. Resources were depleting, the essence of the world was beginning to dry up. Lovenia was in it's darkest hour and it was all that Selenity could do to simply keep the spirits of the other women up. As the younger boys grew into young men to soon many of them were leaving them to go into this war that seemed never-ending. On the eve of the summer solstice the world seemed to cry out in pain. A pain Selenity felt within her heart and soul. The next day, the sun came out later than it should and set earlier. It was still summer yet the days remained as short as winter ones. New creatures, infernal ones, were sighted and the great bridges were destroyed to keep them from reaching the water castle.
Defenses were manned, the women fierce in their protection of the younger children, and archers took to patrolling along with the foot soldiers. Selenity joining the day patrols for midday as well as an evening patrol, despite protests that she should stay in the inner chambers. One evening, one of the priests approached her while she gazed out over the misty nightfall.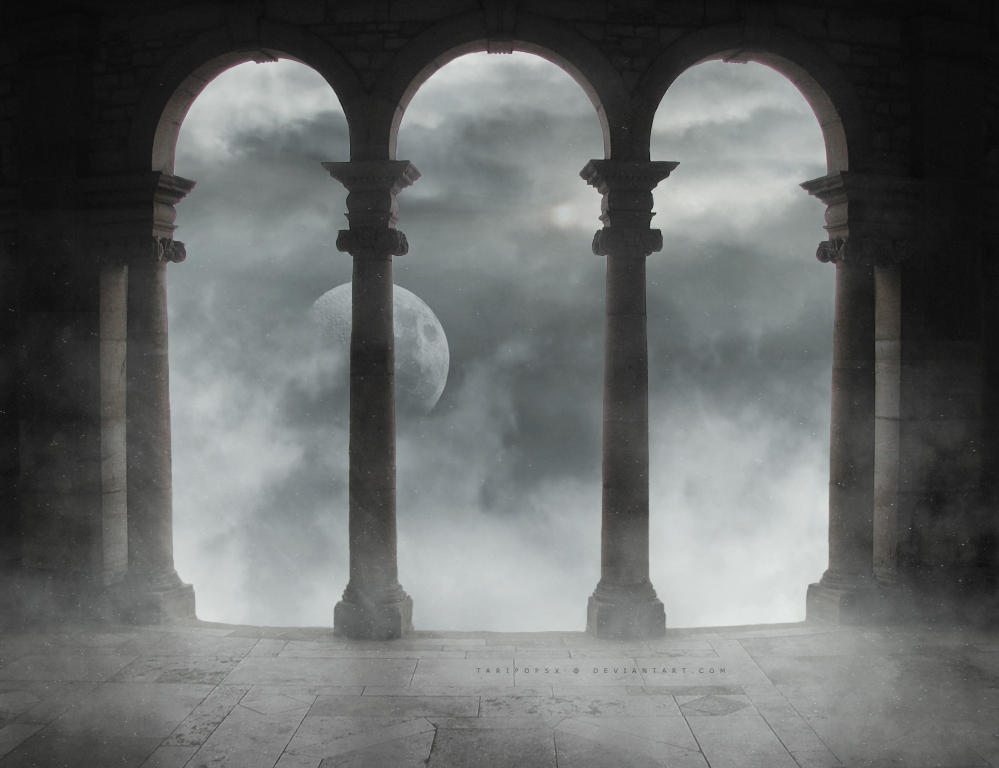 "M.." He paused as she gazed to him, "My Lady, we've discovered something. Would you come with me to the lower caverns? It's an old text that we think might be the key to pushing this darkness back and possibly out of the lands."
"What about the rest of the world?" Selenity asked the Priest, "Pushing it out of Starfell alone is not enough."
"Starfell is what we're focusing on, if this is successful, we can work on sharing it with the rest of the kingdoms." The Priest returned bowing his head, as he motioned for her to follow him, "This way if you would."
Selenity followed, allowing the Priest to take her by the arm to help guide her down into the cavern beneath the castle. When they entered into the area there was a book on a podium like stand before a stone altar surrounded by lighted candles. The book was open and she moved away from the priest and instantly went towards the book. As she leaned over the book, her hair moving forward and falling over the pages, she next felt a pain at her side and coughed, blood pouring quickly from her lips as she stumbled away from it and pulled a dagger out from her side, moving into a defensive stance with the dagger twirled into her off hand and her own sword unsheathed with her main. Her breath already laboured.
"It's no use Princess. That dagger has already put the poison into your bloodsteam. You'll be unable to move soon." The Priest spoke, a bit sadly.
"Why." She asked, sorrow in her voice, "You were entrusted to guide the people, to stay here and to help safeguard us as one of the Battle Priests."
"You are the Mystic Daughter. The only one of your siblings with white hair. It is said that royal blood, when spilled for the land, will bring protection to it's people. You are also the only daughter, the most virtuous of sacrifices are done with maidens. It is hoped that a combination of your Maiden Status, your royal blood, and the promise of the mystic touched, showing the favor of the world upon you will grant this land life again. Especially as a member of the First Royal Family." The priest explained.
Her eyes swam as she listened, sword and dagger clattering to the ground as the poison took hold and she began to fall. The High Priest catching her and lifting her as if she weighed nothing as he placed her upon the altar. "Your death will not be in vain."
"You didn't have to trick me... If there was no other way I would have chosen to do anything to save my people and this world. I do not think this is the only way..." She whispered, struggling to even breathe.
"If there was another way, I wouldn't have done this." He explained, tenderly caressing her cheek, "I am sorry Princess, you would have made a fine leader, your short time as a Battle Maiden already showed what an asset to your family you are. You will not be forgotten."
.
..
.... Warning Character Death Ahead- Potential Trigger
..
.
Before she could say another word he pulled out his knife and began chanting and with a final word, uttered darkly, a ceremonial dagger plunged into her again. It was an odd sensation, it felt as if her soul was being sucked out practically. A glowing light enveloping around the blade. The light grew brighter and brighter as her vision swam and she felt as if she was falling away from the world. She could hear shouts coming from seemingly far away, and a clang of swords.
The priest uttered another word and then the light flew out the cavern from the blade and she felt herself growing cold. The face of one of her brothers swam before her eyes, though she couldn't make out what was said as she tried to smile. She didn't want to go, yet she wanted her people safe, and then she felt a force slamming into the altar, it broke and she was enveloped in light. Her body laid amidst the rubble yet she felt as if she was safe. Thoughts entering into her mind.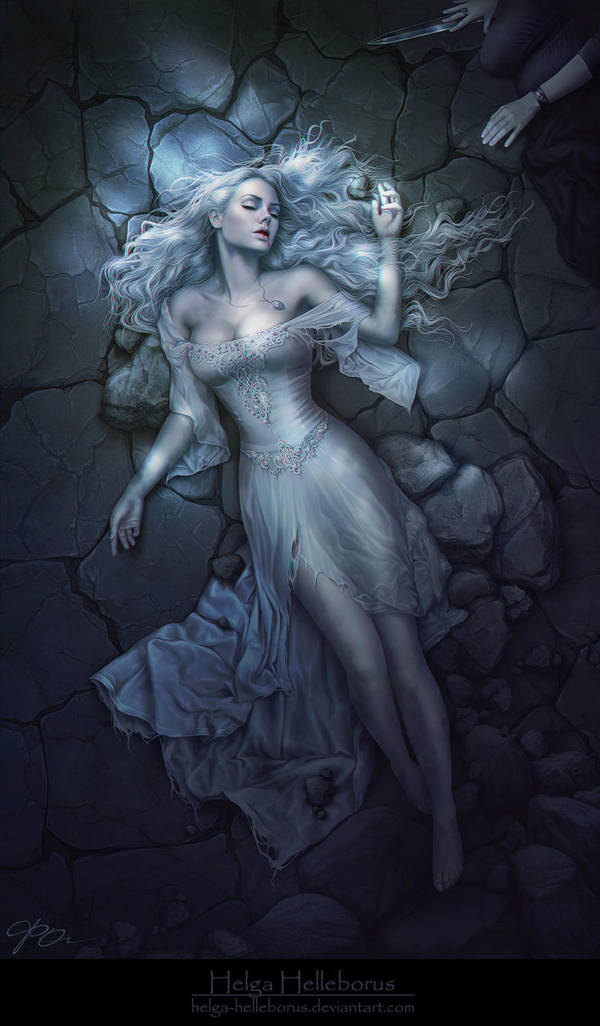 The ritual was a success. You cannot stay in this world but I can give you life in another. This sacrifice will not be in vain though. Your world will have life again and another has already put a dent in the dark forces with a sacrifice of his own. Yours was not intentional so your world will not have a barrier from it but now the dark forces are weaker on your world and the curse upon it has been reversed. Your world will live.
"That is all I can ask for in this." Selenity answered softly, another thought occurring to her, "Where am I going?"
To an untamed world. A fresh start for many like yourself.
"I will never see my family again?"
Who can say. Time will have to be taken for you to heal. You may not awaken in this new world right away. I can not promise the state of it. Only ask that you value this second chance at life and understand that while the rules may be slightly different you are not alone there. I am with you, be it an echo in the forest, the companionship of an animal, you are not alone and there are others with you as well.
"Thank you. I appreciate this second chance at life." Selenity murmured softly.
You are welcome, you may not remember all of this conversation but I will do my best to reassure you that all is well.
With these words Selenity slipped into slumber and when she next awoke she was in Keldor in the world known as Vrystoria..